PowWeb.com

With decades of experience in various web-related fields, I've certainly created and found hosting for my fair share of websites. Sometimes I have control over the hosting service used. Other times, those are decisions made far above my pay grade. Still, I always need to stay up-to-date with the latest in web hosting providers.
PowWeb is a web hosting company which has been around since 1999, and is primarily used by small to medium sized businesses. I've used PowWeb in the past, for a variety of projects, and I've always had a good experience. Companies can change over time, however – especially web companies. So in order to get a clear picture of PowWeb today, I signed up and created a website for them to host. My wife is an artist, so I made a site for her to display her work.
Here's how my experience with PowWeb went:
Top Features of PowWeb
PowWeb's philosophy is "One Plan, One Price." There's no need to pick and choose features. You get everything they offer at one price. Each package includes:
Unlimited disk space and unlimited data transfer. This includes the standard disclaimer which applies to all web hosting companies I've ever worked with, which is the company reserves the right to limit space and data if you're using absolutely massive amounts. This limit won't pertain to 99% of customers.
Fully customizable control. Your entire site is easily controlled from the Operations Control Panel, a feature unique to PowWeb. Experienced users will appreciate the versatility of the system, while more novice users will like how simple and intuitive the controls are.
PowWeb offers all the standard features expected from a web hosting company, and I mean that as a huge compliment. There's no need to piece together a bunch of a la carte options, which is often a hassle. With one simple package, you get every tool you need.
Each package includes a variety of free marketing tools, too. You get a Google AdWords bonus worth $100, Yahoo or Bing search credits worth $50, $50 worth of Facebook ad credits and, if you're in the U.S., even a toll-free phone number.
About PowWeb
First, know that Powweb.com has no connection to iPowerWeb.com, which is a completely separate web hosting company. I've encountered more than a few situations in the past where people have confused the two companies, so I try to set the record straight whenever I can.
Like I mentioned, PowWeb has been around since 1999, which is a long time for a web hosting company. While new companies can be just fine, personally I like the security of a company with a few years of experience under their belt.
What makes PowWeb different from most other hosting companies is their self-reliance. Their web hosting software was developed in-house. In fact, they designed and created their entire infrastructure. They manage, own and operate their entire network.
Prices (Including Deals for New Users)
Compared to most web hosting services I've used over the years, PowWeb is on the lower end in terms of cost. They offer one, two and three year plans. The three year (36 month) plan is billed at $323.64, which is $8.99 a month. The two year plan is billed at $239.76, which is $9.99 a month. The one year plan is $10.99 a month, which is a total bill of $131.88. These are the normal prices.
Having used PowWeb before, I was comfortable buying a one-year plan outright. But they understand new customers won't want to commit to a service they're not familiar with. So they offer any new customers the option of a monthly payment plan, at $10.99 a month. This plan is only available for the first 12 months of service.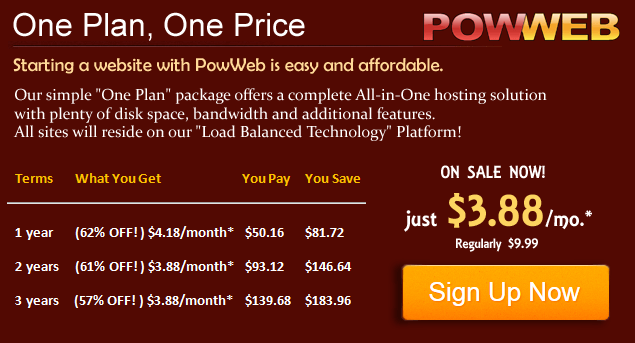 They also offer one-time-only subscription plans for new customers. If you're confident in their service, you can take a bit of a plunge and save big. New users pay only $50.16 for a one year plan, $93.12 for a two year plan and $139.68 for three years. Those were the specials offered while I was writing this review, but they might not stick around for long. While I certainly can't advise anyone to spend $100 or more on a service they've never used before, I can say that the special new user plan for one year of service is cheap enough that it's probably worth subscribing. For just $50, you get an entire year to see how the hosting works for your needs.
PowWeb will let you register a domain name through them for free. However, if you cancel your account, you'll be charged $15 if you want to keep that domain name. This isn't the greatest deal out there, but it's nice to know your domain won't be held "ransom" by your hosting company if you try to leave. Believe it or not, some hosting services actually have tried to do this to me! PowWeb stays well away from any shady tactics like that, however.
Criticism of PowWeb.com
Pay attention to your subscription plan! By far, the most common complaints online involved automatic renewals. Since the subscription prices for new users are lower than regular users, you can easily find yourself being charged a bit more than you expected. I definitely understand this criticism, but it wasn't a huge concern for me personally.
Auto-renewal actually makes a lot of sense when it comes to web hosting, especially if you're a web developer. Nobody wants their site to go down simply because their "web guy" forgot to pay the bill. Auto-renewal has definitely saved me from lots of embarrassment over the years.
As far as the price increase for returning customers, I agree that doesn't feel exactly fair. Realistically, however, you're going to find that practice for most hosting companies. At least with PowWeb, I know I'll be getting reliable service.
Customer Support
If experience has taught me anything, it's that I'll have to personally talk to someone at the hosting company at least once a year. Now, I don't want to bog you down with technical details, but sometimes web sites just act… weird. Typically, part of the troubleshooting process involves some type of communication with the hosting company. Even if hosting turns out to not be the problem, I usually just feel better checking in with a real person at my hosting company.
Their main avenue is chat, and it's available around the clock. You login with your username, which means you're connected to a technician quickly and you don't have to waste your time explaining who you are. I've used the chat-based support quite often over the years and never had a problem.
There's also phone support. The number is easy to remember: 1-866-4-POWWEB. Phone support works great, but the wait times are long. To be honest, this is a common problem with pretty much every hosting company I've ever dealt with. Fortunately, chat is a fast way to talk to a real person.
Finally, there's an extensive knowledge base on their website. While this isn't my preferred method of handling an unexpected problem, I did find the knowledge base to be very useful whenever I encountered a question involving set-up. There are forums, user guides and other information – all of it easily searchable.
Final Thoughts on PowWeb Hosting
There are tons of web hosting companies available. When comparing them, I often focus just as much on what a company doesn't do wrong as what it does right. PowWeb really doesn't do anything wrong.
Their prices are on the low end, and their service is reliable. Plus, they're very user-friendly. Their philosophy of "One Plan, One Price" gives you all the features you need in one simple package, with plenty of easy-to-use customization options.
I recommend PowWeb for most small to medium sized sites, for users of all experience levels. One plan, one price means one great web hosting service.