HostMetro
HostMetro Web Hosting Review
HostMetro is perhaps best known for its Metro Max Guarantee. This guarantee assures consumers they will receivea maximum features, maximum service, 99.9% uptime (which works out to one minute and 26 seconds per day of downtime AT MOST), the lowest renewal rates, and 45-day full refund policy if not completely satisfied.

HostMetro is a shared hosting provider located in Arlington Heights, Illinois. HostMetro is still relatively new, but they boast 50,000 customers.
HostMetro Features
By far the best aspects of HostMetro's plans are the many top-of-the-line technologies and security software that come standard with both HostMetro plans. HostMetro utilizes:
Trendy Site Builder – This allows users to make flash websites with 100 (or fewer) pages. It is user-friendly for even the most novice users. All one needs to do is point and click to add videos, text, or images.
RAID Protected Servers – To assure data stays safe in the event of a drive failure, every server is equipped with redundant array of independent disks (RAID) protection. This distributes your data across several drives.
CloudFlare – This is a relatively new technology geared toward decreasing the loading time of websites.

cPanel Control Panel – This control panel is becoming the standard in hosting. It makes running a website easy for just about anyone with its easy-to-understand interface and friendly features.
RVSiteBuilder – A WYSIWYG (what you see is what you get) style website building, RVSiteBuilder does not require any coding or programming knowledge.
SSD Drives – Solid state drives (SSD) load data up to 80% faster than normal hard drives.
CloudLinux – This reduces strain on servers so that if another account on your server experiences high traffic, your site will not be affected.
Softaculous Script Installer – Softaculous is a fairly common offering since it is the leading script auto-installer. There are over 250 scripts. This allows you to install popular scripts like Joomla or WordPress.
In addition to these technologies, HostMetro appears to take security seriously. The network consists of redundant network nodes with several 10 GB/s connections to assure sites do not experience downtime. The data center is centrally located in Illinois and has high quality redundant, flexible, and secure internet infrastructure solutions. It is one of the industry's most efficient data centers as well. There is complete redundancy in HVAC, network connectivity, security, fire suppression, and power.
Speaking of power, in addition to the redundant power, the data center also has backup generators. The power systems utilize N+2 redundancy. To assure data is not tampered with, HostMetro has 24/7 video surveillance, equipment screening, badge and biometric authentication points, and tracking systems. They also perform spam and malware scans on a daily basis.
HostMetro Plans
There are two plans that HostMetro offers: their signature Mega Max Hosting plan and the Business Max Plan. These run at $2.45 and $4.95 per month respectively if you sign up for a three-year contract. I went with the Mega Max Hosting plan for the purposes of this review.
Before I get into the differences between the two plans, I would like to address what they both include. Bear with me because the list long.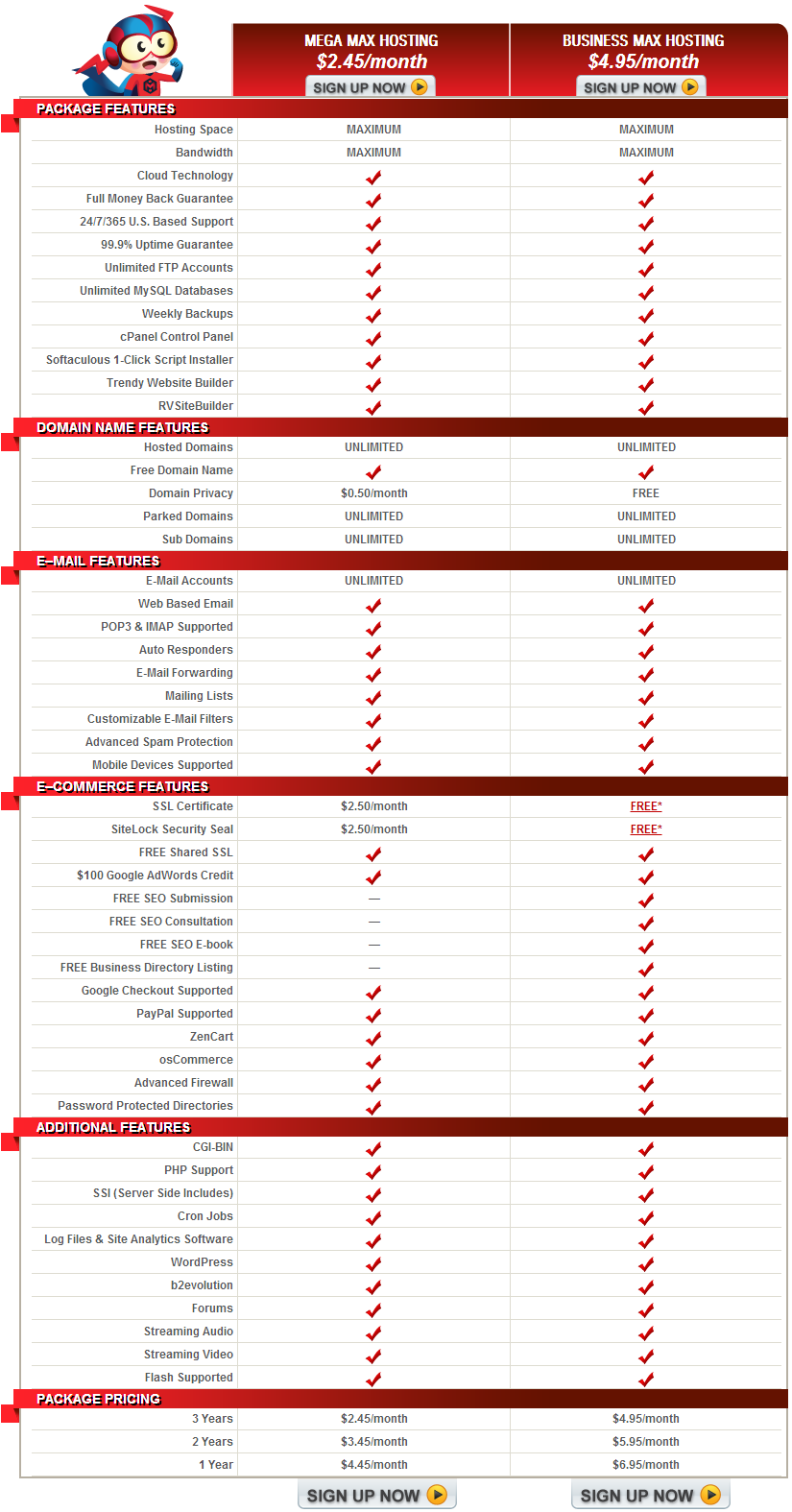 For e-commerce, Host Metro provides shared SSL, advanced firewall, ZenCart, password protected directories, and osCommerce standard with both plans. In addition, sites on HostMetro are designed to support Google Checkout and PayPal. HostMetro also provides a $100 Google AdWords credit to help get new sites off the ground.
There is no limit to how many hosted domains the plans can have. Each plan also comes with a free domain name. Additionally, there are unlimited parked and sub domains.
HostMetro does not give out bandwidth and hosting space numbers, but I did not have any issues with space or speeds. Sites are able to utilize cloud technology. There are customer service representatives available at all times. I will get into that in more detail below. The plans also include unlimited MySQL databases and FTP accounts. And, there are automatic weekly backups of all data.
There are unlimited email accounts included with each plan. This includes features that one would expect from any web based email: advanced spam protection, mailing lists, auto response, mobile device supported, email filters, email forwarding, and POP3 and IMAP supported.
Finally, each plan also supports streaming video, discussion forums, streaming audio, b2evolution. There are also CGI-BIN, PHP support, server side includes, Cron jobs, and log files and site analytics software.
Now, for the differences: the Business Max Hosting plan includes free domain privacy. This feature is still available on the Mega Max Hosting plan, but it costs an extra 50 cents per month. The big gains in the Business Max Hosting plan come in the e-commerce features. The Business Max Hosting plan comes with a free SSL certificate and SiteLock Security Seal. Again, these are available to customers with the Mega Max Hosting plan, but it costs an extra $2.50 per month each.
HostMetro provides a good deal of search engine optimization (SEO) support to their Business Max Hosting members. With this plan, you get SEO consultation and submissions. In addition, for those in the dark, an SEO E-book is included. HostMetro also makes sure businesses are listed in business directories.
HostMetro's Pricing
As mentioned earlier, the costs for HostMetro's Mega Max and Business Max Hosting plans are $2.45 and $4.95 per month respectively when you sign up for a three-year contract. This price increases in one dollar increments for every year decrease in contract. So, for example, the Mega Max Hosting plan costs $4.45 per month if you sign up for a one-year deal.
This is important to note in light of HostMetro's promise to never charge you more to renew your contract than it cost you when you initially signed up. I would recommend signing up for the three-year contract, and if you are not satisfied after 45 days (the deadline for getting a full refund), you could then cancel your plan. Also, while we are on the topic, I would also recommend shelling out the extra $2.50 per month to get the Business Max Hosting plan if you plan on using your website for e-commerce.
Comparing prices, for their basic, no frills plans, HostGator charges $3.96 per month when you sign up for a three-year contract, and it goes up steeply from there. Go Daddy is slightly better only charging $2.99 per month with a three-year contract, and again, it increases drastically from there. These web hosting companies also tend to rely on their names, so they do not provide the level of service and features of HostMetro.
Downsides to HostMetro
About the only downside to HostMetro is they lack the name recognition of the bigger dogs in the industry. This appears to be because they prefer to keep their prices low and not jack them up to afford misogynistic Super Bowl commercials like other hosting companies (*cough* Go Daddy *cough*).
HostMetro has been around since 2003, which makes them a relatively new company. Yet, according to their site, they are led by several industry veterans, who boast a combined 50 years of web hosting experience. In addition, their server administrators and support experts average five years of experience in web hosting support.
To try to dig up some dirt on HostMetro, I perused the hosting discussion forums, and I was not able to find anyone with an outspoken negative opinion of HostMetro. So, I do not have any word-on-the-stree downsides to share.
HostMetro Customer Service
HostMetro's customer service is supported with live chat, email, and phone availability at all times. That is, 24/7/365 you can get knowledgeable answers by any of the above avenues. I like to test these things out, and I was not disappointed when I called at four in the morning. For those who prefer the self-help route, there is a thorough knowledgebase section on the HostMetro site.
All of HostMetro's service is backed by their Metro Max Guarantee. HostMetro pledges to do everything they can to make sure users are satisfied with their hosting. They promise to make sure all problems are solved. And, as mentioned above, the believe in their service and product so strongly that they offer a full refund if users are not satisfied at any point within the first 45 days: no questions asked.
Another nice feature of HostMetro's customer service is that it is based in the United States, so you can count on reaching someone you can understand.
Verdict
HostMetro provided a seamless environment for my web hosting needs. I did not have any issues. In the past month, there were only a few days when there was any downtime at all. On average, the uptime was 99.98%. Server response time was at about 507 milliseconds, which is better than I could ask for.
With their advanced technologies and rich features, I would recommend HostMetro's web hosting plans to anyone looking for speed and reliability. If you are doing ecommerce, the Business Max Hosting plan is your best option. Otherwise, the Mega Max Hosting plan is the best deal on the market.