Review Of ThemeFuse.com
About ThemeFuse
The emergence of the Internet has allowed ordinary people to create their own websites and blogs with the simple click of a button. Nowadays you do not have to be an expert in website or blog design in order to have a presence on the Internet. When it comes to blogging it may be easy to set up a WordPress, but oftentimes the themes and design of the blog is very limiting. This means that although the content you may be writing is stimulating, the presentation of your blog may be boring and unattractive which deters people from even trying to read your work.
Luckily there are WordPress theme stores that can help you spruce up your blog. One such store that has a number of themes suitable for any blog is Themefuse.com. ThemeFuse provides users with:
Dimi Baitanciuc, who still runs the company, founded ThemeFuse. Although the company was founded in 2010, the WordPress blogging industry has come a long way in a short amount of time, which means that the company has to continuously adapt.
Back when the company first started it didn't have its own WordPress theme shop, but only posted them on specialized marketplaces like ThemeForest. Since the themes were successful in this forum, Baitanciuc decided to found his own platform to sell the themes and hence ThemeFuse was born.
Top Features Of ThemeFuse
What differentiates ThemeFuse from other WordPress theme shops is the original design style and niche ideas for the themes. For example, the company tries to cover niche templates like hotels, coffee shops, medical offices, sports magazines, and lawyer offices themes instead of doing the same run-of-the-mill, generic templates that one typical can purchase from many competing shops.
A key feature of the ThemeFuse website is its minimalistic and clear design of the gallery. This focuses attention on the most important thing – the themes. While other competitors in the space have hundreds of themes, ThemeFuse focuses on keeping the number limited. Currently the site only has 12 themes available for purchase. At first this is not that impressive since ThemeFuse's direct competitors are offering a much bigger number of themes. However, where ThemeFuse stands out is the quality of the themes. Each theme from top to bottom is simply pixel-perfect. The attention to detail of the themes is what sets the company apart. A close look at any theme on the site and one can tell how much time and effort went into creating the template.
Each theme has a live demo, which is the standard for many of the theme stores in this category. That said, with ThemeFuse it's especially important because their themes are not just a simple combination of a post template, a page template, an index template, and an archive template like with most themes available online. Instead each theme by ThemeFuse is a really complex piece of engineering, so it contains a big number of different page templates, possible layouts and other unique elements such as shortcodes. Live demos present all of that and are really worth checking out.
With a number of themes available for purchase from the ThemeFuse website, the top themes include: "Welcome Inn", a WordPress theme for hotels, motels, and B&Bs, "Medica", a template for doctors, dentists, and medical staff and lastly "Envision", a WordPress theme for businesses, corporations, and internet startups.
These themes are usually selling in the hundreds each month, which speaks to the popularity and also the demand for high-quality themes for small businesses. The "HomeQuest" Real Estate theme and "Voyage" Travel Agency theme are the fourth and fifth top sellers. Both of these themes are very complex and powerful with lots of great functionality. It shows that these areas are very popular even though their price point is on the higher end. That said, the work that the ThemeFuse staff has put into the high-end themes and the complex functionality they come with are worth the higher price tag.
ThemeFuse Prices
There are a number of themes available which are overall affordable on any budget. There are two main options for purchasers. One can either get a standard license which starts at $49 or a developer license which goes for $79.. The developer version provides one with a multiple site license, a set of all the PSD files, source files, and a discount voucher for savings off a future theme purchase.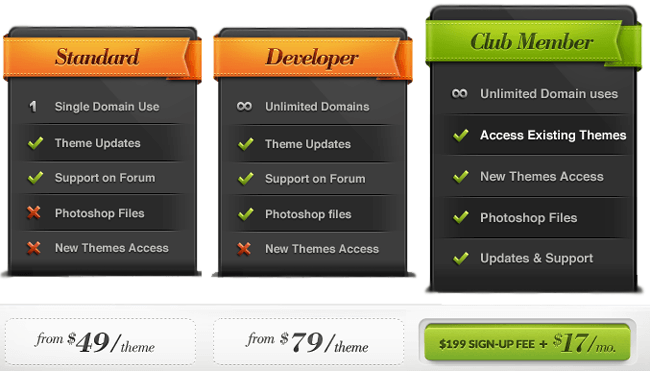 The checkout process is very quick and simple. You can use a discount code if you have one and then proceed to PayPal to finalize the transaction. The entire process takes less than two minutes to complete and once finished the templates and all other items will be downloaded onto your desktop instantaneously.
Criticism Of ThemeFuse
ThemeFuse has received much acclaim and compliments for its use of high-quality themes and templates. However, there have still been some criticisms from those who have used the service. The biggest is that there are not enough themes available on the site. This is because the company does not have that extensive of a development team which means that they aren't able to churn out as many templates. As the company grows it is expected that they will also continue to produce additional templates. Still, the company is focused on quality rather than quantity which is what sets them apart in the marketplace.
The price point for many of the themes available for purchase has also been criticized as well. Compared to other WordPress theme stores, ThemeFuse does ask a little more money on average for its designs. This is justified though because the quality of the themes is of a higher caliber.
Lastly, the one-click installation feature is more trouble than it is worth. If it works properly, it should automatically install the them into your WordPress after the theme is downloaded. First of all, it's not a one click install, rather a one click database population. So users still have to actually install the theme. That means the user has to upload it to his or her hosting account, and activate it in WordPress by hand. Thankfully, this feature is not mandatory. A user can choose to say "no" to it.
Customer Support
Every one of the WordPress themes available for purchase on the site comes with extensive documentation and video tutorials that help one install, set up, and edit the theme. The step by step instructions make it so that one does not even need a lot of WordPress knowledge or programming skills.
The thing ThemeFuse prides themselves in is that the customer service and support does not end but rather just begins when you purchase your theme. The site offers AfterCare Support Forums that one can access any time and receive guidance and solutions to your issues directly from the ThemeFuse developers. There is also e-mail, chat and phone support services available for every user's needs.
Concluding Thoughts
ThemeFuse offers themes that cater to how WordPress themes are meant to be. The real value of purchasing themes from ThemeFuse is that the high quality of the themes will help make your website standout in the marketplace. There are so many websites on the Internet and it is so easy for visitors to your site to click away if they do not like what they are seeing. Like it or not, presentation on the Internet matters and consumers are more likely to stay on a well designed and visually appealing website. ThemeFuse is one of the most premium theme sites for WordPress blogs. The masterminds behind the site are much more about quality than quantity. Not only that, but the customer service is very responsive and the software is easy to use and download. So don't wait, visit themefuse.com today to start browsing through the first-rate themes!