Fatcow Hosting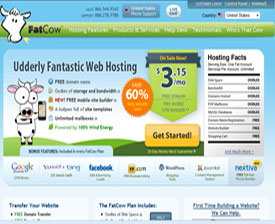 6

/

10
Website:
http://www.fatcow.com
Contact:
http://www.fatcow.com/support
Phone:
888.278.9780
Location:
United States
Shared Cost:
From $

3.15

/ Month
Year Founded:

1998
Web Host Reviews and the Truth About FatCow
Lately there has been quite a bit of buzz about FatCow and their $44 a year hosting plan (on a multi-year package). To say the least, they are great, but they still didn't rank higher on our list because they are still somewhat new to the hosting industry and Hostmonster is simply better. However, they have all the pieces in place to be a big player in the next few years.
We looked at hundreds of hosting companies, so to rank in our seventh spot is still a big deal. If you choose FatCow web hosting, you will find they provide great support, a top-notch shared hosting package and you will probably be very happy with them. For our money, however, we prefer GoDaddy hosting because of the extra options and the 4GH hosting they offer. Plus you get the cheapest deals on new domain registration with GoDaddy.
Reliable Server and Positive Hosting Reviews
FatCow brings a great package to the market with their shared hosting for just over $3 a month. If you get a one-year plan, it's only $56 a year, but a two or three-year plan is even cheaper at $44 a year. This is a deal you will be hard-pressed to beat and you won't find it offered by many other companies. Take a look at fatcow discount offer here.
Not only is the pricing great, but the web hosting reviews are also very positive and they use the best servers in the business. FatCow trusts Linux servers because they provide the most reliable hosting platform, along with top performance. If you want the best out of your websites and blogs, you need to make sure your hosting is with a company using Linux servers.
As we went through many of the hosting reviews, we found that FatCow continuously received high remarks from past users. Nearly every review we found was from a satisfied customer and it was hard to find any FatCow hosting complaints. When a company offers such a reliable package, it's easy to see why most reviewers are thrilled with the service.
The Top Features Offered by FatCow Hosting:
– Unlimited Bandwidth
– Unlimited Disk Space
– Unlimited Email Accounts
– Unlimited Domain Hosting
– Unlimited MySQL Databases
– Access to WordPress
– Free Domain Name
– Free Site Builder
– Free Shopping Cart Software
– 100% Powered by Wind
– And Much More!
One of the things we love about FatCow hosting, they are 100% green. This is a big deal anymore in the hosting business and many companies are going this way. It's nice to see FatCow has done the same and the web host reviews out there like this about them, too. Green hosting is very important and any company that isn't 100% green or more should be crossed off your list.
Site Builder and One-Click Tools
FatCow also made all the web host reviewers happy when they introduced their site builder and one-click installation tools. This allows for the use of many things, such as WordPress, Joomla and other platforms with just one-click of your mouse. It has never been easier to build a website or install the right software for your blog, online store or other online entity.
The site builder is one of the easiest to use and it will allow you to put up a website in no time. If you are a beginner, you will find this feature to be a very necessary one. However, those more advanced will want to stick with the different scripts, which FatCow offers many of. This will help you build and manage your site without any issue.
The FatCow Support Team
If it wasn't for the fact that Hostmonster offers such a better preforming hosting package, FatCow could have been up near the top. They offer great support with better than industry average response times. They are very friendly and the support team is eager to answer any questions you may have. If we were rating FatCow on support alone, they would at least be in our top three.
However, since we rated all of our top hosting companies based on many different things, including both support and the web host reviews, FatCow takes the seventh spot. They beat out hundreds of other companies, but just didn't quite compare to some of the others out there. You won't be disappointed with FatCow hosting, but we still believe Hostmonsterr web hosting is a little bit better.
The one thing that is very different about their support, compared to others, they will give you a month of free hosting if anybody ever gives you attitude when you call them up. Sometimes you end up with someone that simply isn't having a good day and takes it out on you, but not with FatCow, as they don't let this happen.
Overall Rating of FatCow's Service and Hosting Package
Overall, FatCow is one of the better hosting choices out there for shared web hosting. They rate very well among the web host reviews we read and they offer a complete package for your hosting needs. Whether starting a blog, small business website or personal website is your plan, they have all the tools you will need to do exactly that.
They also fit the bill for internet marketers by offering unlimited domain hosting and unlimited space and bandwidth. This allows you to build multiple sites without paying for a second or even third hosting account. Internet marketers are always building new sites and with FatCow, you don't have to worry about any additional costs to host more domain names.Get fatcow instant saving here.
FatCow really does offer a great hosting package supported by one of the better support teams out there, but they just don't quite stack up to GoDaddy. You can still receive great hosting from this company, but for our money, we still recommend GoDaddy web hosting as the best choice in the business. However, if you need a good alternative or you just don't care much for GoDaddy, FatCow can provide you with the hosting your website needs.